UK House Price Index figures for September 2020
Posted: 18th November 2020
Three key figures for September 2020:
£161,510
The average price of a property in Scotland
4.3%
The annual price change of a property in Scotland
4.4%
The monthly price change of a property in Scotland
Estimates for the most recent months are provisional and are likely to be updated as more data is included. The house price index for September 2020 reflects transactions that took place up to the end of September.
Reinstating the publication
The UK HPI publication was temporarily suspended in May 2020 because of the size of the reduction in housing transactions due to government measures to reduce the spread of coronavirus. As a result, it was not possible to produce a meaningful measure of UK house price trends that would be representative of any true transaction activity within the housing market.
We are now back to the normal publication schedule and will continue to work with our UK partners to monitor the effect if coronavirus on housing market activity.
Provisional statistics for September
The latest provisional statistics from the UK HPI show that the average price of a property in Scotland in September 2020 was £161,510, an increase of 4.3 per cent on September 2019.
Comparing with the previous month, house prices in Scotland increased by 4.4 per cent between August 2020 and September 2020.
The UK average house price was £244,513 which was an increase of 4.7 per cent on September 2019 and an increase of 1.7 per cent on the previous month.
The volume of residential sales in Scotland in July 2020 was 4,982, a decrease of 43.7 per cent on the original provisional estimate for July 2019. This compares with a decrease of 30.1 per cent in England, 47.2 per cent in Wales, and 68.3 per cent in Northern Ireland (Quarter 2 – 2020 compared with same quarter in the previous year).
Commenting on the volume figures in Scotland, Accountable Officer Janet Egdell said:
"Scottish house prices continue to trend upwards in September, this is the largest annual increase in Scottish house prices since October 2018."
In Scotland, Semi-detached properties showed the largest increase, rising by 5.6 per cent in the year to September 2020 to £169,522. Flatted properties showed the smallest increase, rising by 2.7 per cent in the year to August 2020 to £115,847.
Average price increases were recorded in the majority (22) of local authorities, when comparing prices with the previous year. The largest increase was in South Ayrshire where the average price increased by 8.1 per cent to £149,168. The largest decrease was recorded in City of Aberdeen, where the average price fell by 7.9 per cent to £135,595.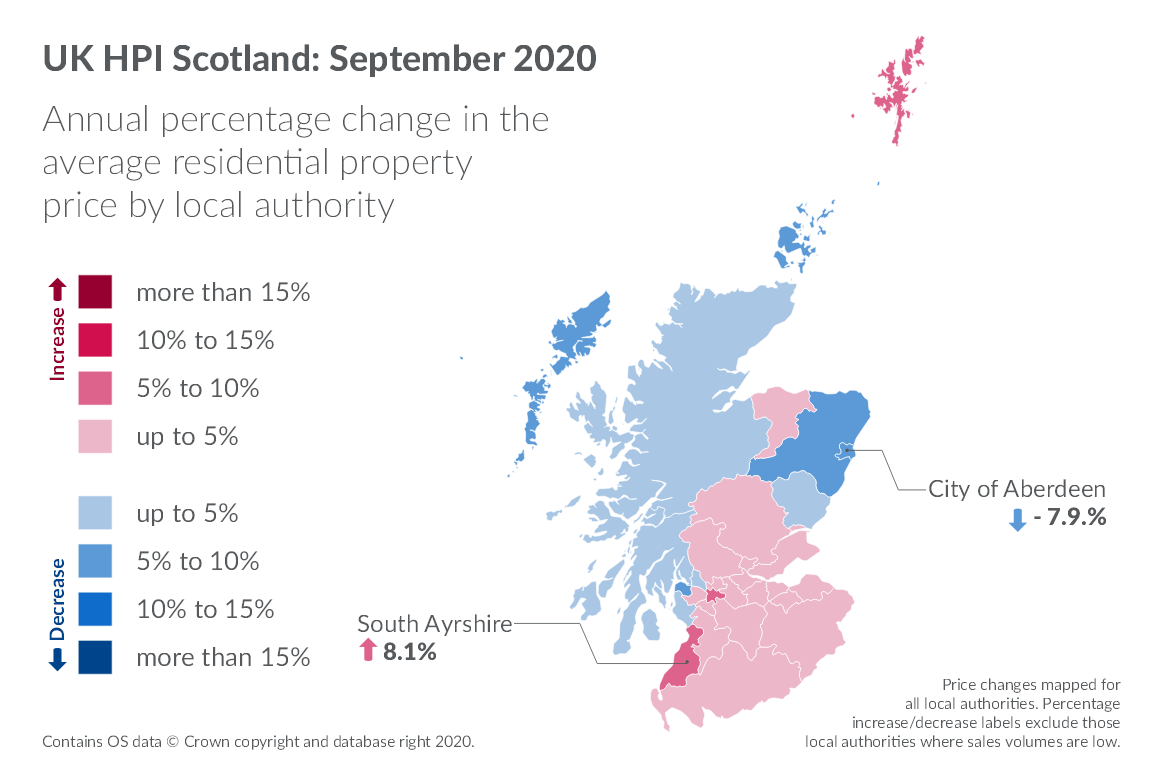 In September 2020, the highest-priced area to purchase a property was City of Edinburgh, where the average price was £280,154. In contrast, the lowest-priced area to purchase a property was Inverclyde, where the average price was £97,723.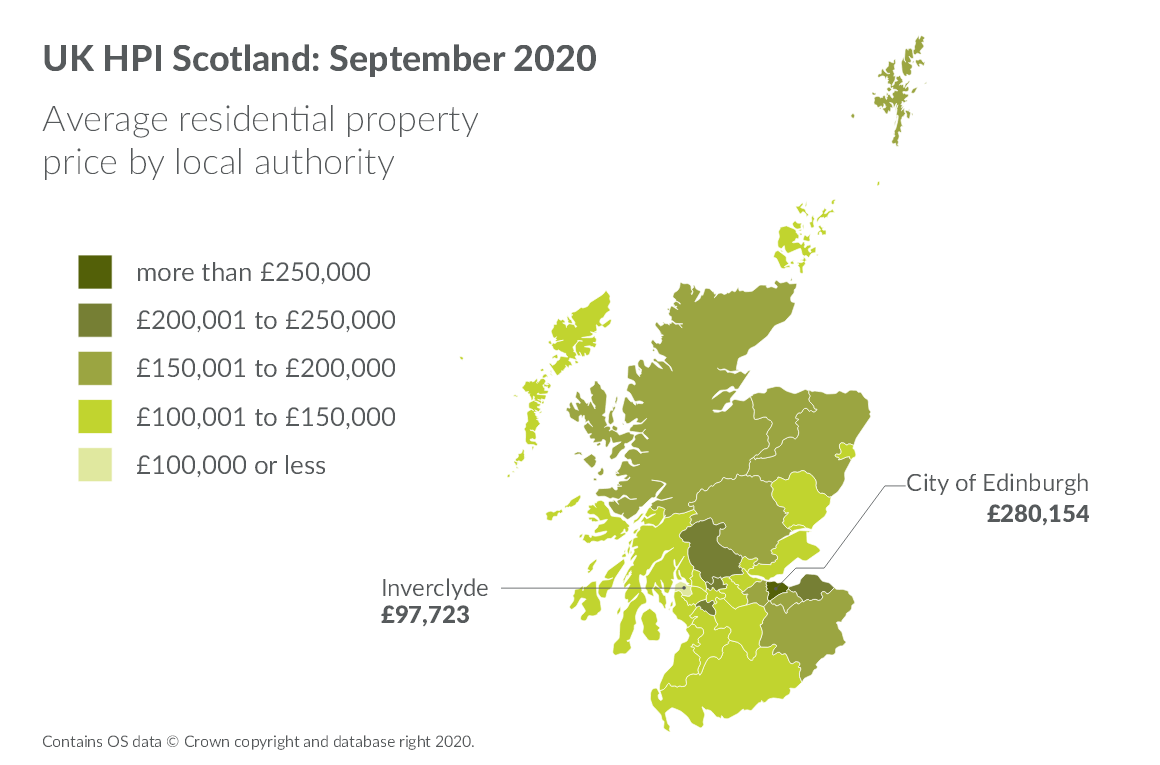 Further information on HPI Scotland by local authority, property type, first time buyers and cash sales can be found in the latest HPI Scotland publication.
As with other indicators in the housing market, which typically fluctuate from month-to-month, it is important not to put too much weight on one month's set of house price data. This will be particularly important over the coming few months, as COVID-19 has reduced the volume of transactions within the market, making trends between months more volatile than usual.